Our 2019 eWomenNetwork Conference and Expo is right around the corner and we want you to make the most of your experience! Anyone who has been to our conference in the past is no stranger to the endless tips and tricks you will learn to open your perspective and achieve your full potential. So how do you prepare for this life-changing experience? We've got you covered with 5 ways to prepare for our #EWNCONF!
Register early. If you haven't gotten your tickets yet, now is the time. If you are coming from out of the area, make sure to book your flights and hotel far in advance. Space at the hotel WILL run out DON'T want to miss the opportunity to be at the host hotel. If you are coming with other members of your chapter, try to plan your trip together. It's easier to fly and get to the hotel with friends and it allows you to divide and conquer while you are at the conference. This secures your space and gives you peace of mind to move on to preparing for the event.
Prepare an agenda. Take some time to go over the conference schedule and hone in on what you really want to get out of your experience. At the start of every day, look over what events are taking place, what speakers are presenting, and what vendors are participating. Bring a planner if it makes organization easier. This will help you establish your goals for what you want to take away before even arriving. It also helps target specific people and panels, so you don't miss out on valuable information. Although there will be keynote experiences, there are also moments where we will have multiple rooms with multiple speakers. On top of speakers, there will also be activations and you want to make sure you make time to see and hear everything you want to take in.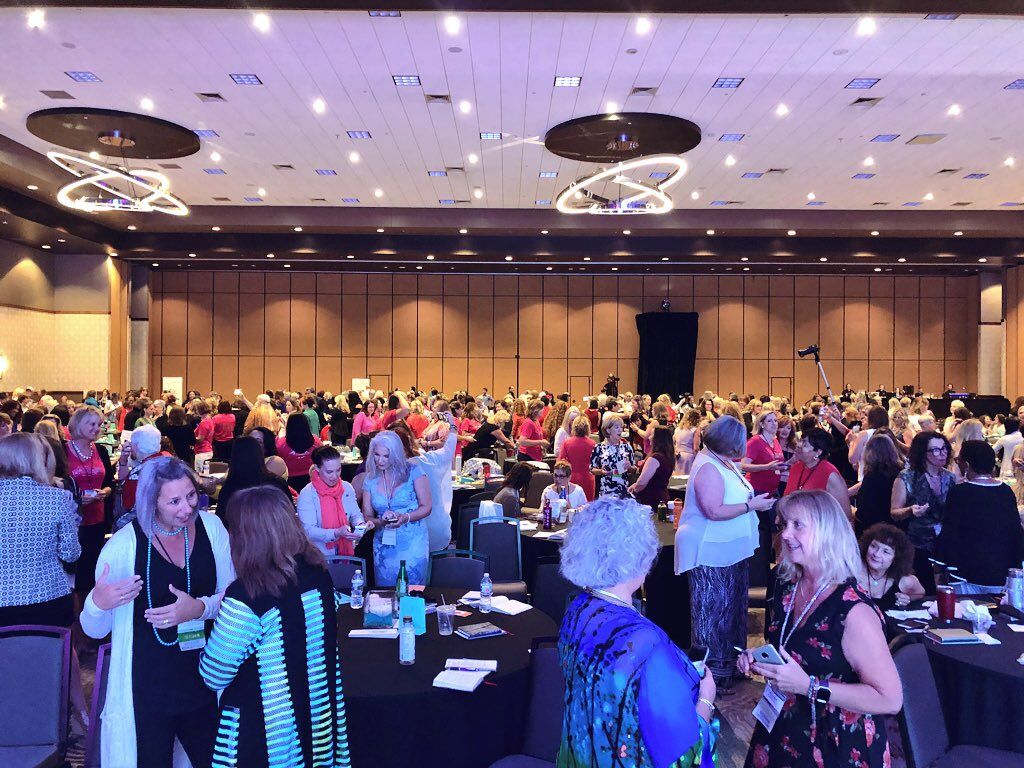 Market yourself. Come prepared to network and sell yourself. Make sure to pre-order those business cards and marketing materials. You never know who you are going to meet or how you can collaborate with other attendees. You also want to make sure to have your LinkedIn account updated and ready to add new connections. Add new people while it's fresh in your mind, you are going to be taking in a lot of information over the weekend and don't want to miss on any connections. Remember you are at a conference so don't pitch too hard to someone who might not want to be pitched to, but DO meet as many people as you can and connect with as many people as possible. Someone might go home and suddenly need your service. Don't miss out on future opportunities and don't forget to follow up when you return home! Connecting in the days following the conference is ESSENTIAL while it is still fresh.
Think outside of your comfort zone. You are going to be learning a lot over the weekend and there might be some aspects you might not think relates to your current business state. Don't be so quick to rule something out. Keep an open mind. You never know where one opportunity, one connection or one interaction may take you. This event is created to bring the tools and resources you need to elevate your business right at your fingertips. Making quick assumptions or ruling an opportunity out may block the blessings waiting for you on the other side. Remember that knowledge is power and something that doesn't relate to your current state can eventually find itself important further down your entrepreneurial path.
Dress to impress. For many people, this is their first impression of you. Keep that in mind as you plan your outfits for the weekend. Bring comfortable clothes, fancy outfits, professional pieces, and any other options you may need. Outside of panels and activations, we also have our fun events that take place, such as our dance party, the International Femtor Awards, and photo ops, so be sure to bring an array of outfits and most importantly - shoes. Anyone who attended our conference last year remembers our #Shoefie competition. You never know what we have in store for this year, but we promise it's good.
We hope these tips have you feeling prepared and excited about the conference! We can not wait to see you in just a few months. Don't forget to pack materials for taking notes and keeping your electronics charged. If you haven't gotten your ticket yet, visit our official conference website at https://ewnconf.com/ to purchase yours and get more info on our speakers.  What are you the most excited about at the conference this year?